Cryptocurrencies have been reshaping the world of finance, with the rise of centralized exchanges like Bitcoin.me playing a crucial role in this paradigm shift. Centralized exchanges have emerged as the backbone of the crypto industry, facilitating the exchange of digital assets in a secure, efficient, and regulated manner.
The Importance of Centralized Exchanges
The advent of centralized exchanges revolutionized the crypto world by providing a secure platform for transactions. These exchanges act as middlemen, overseeing and facilitating transactions between traders. They provide a platform for users to buy, sell, and trade cryptocurrencies against other digital assets or traditional fiat currencies.
One key advantage of centralized exchanges is the robust security measures they provide. Bitcoin.me, for instance, employs cutting-edge encryption technologies to protect user data and funds from potential threats. Such security measures are vital in the volatile crypto market, where the value of digital assets can fluctify rapidly.
Regulation and Compliance in Crypto Exchanges
In an industry often marked by uncertainty and suspicion, regulation is paramount. Centralized exchanges like Bitcoin.me, maintain compliance with KYC and AML regulations across all jurisdictions they operate in. This process involves verifying the identity of users, reducing the risk of fraud, money laundering, and other illicit activities.
Regulatory compliance not only protects users but also legitimizes the operations of the crypto exchange. This encourages wider adoption of cryptocurrencies and builds trust among users and potential investors.
The Case of Bitcoin.me
Amid the myriad of centralized exchanges, Bitcoin.me stands out due to its commitment to security, efficiency, and user experience. The platform's proprietary trading engine handles over 3 million transactions per second, enabling fast, seamless trades.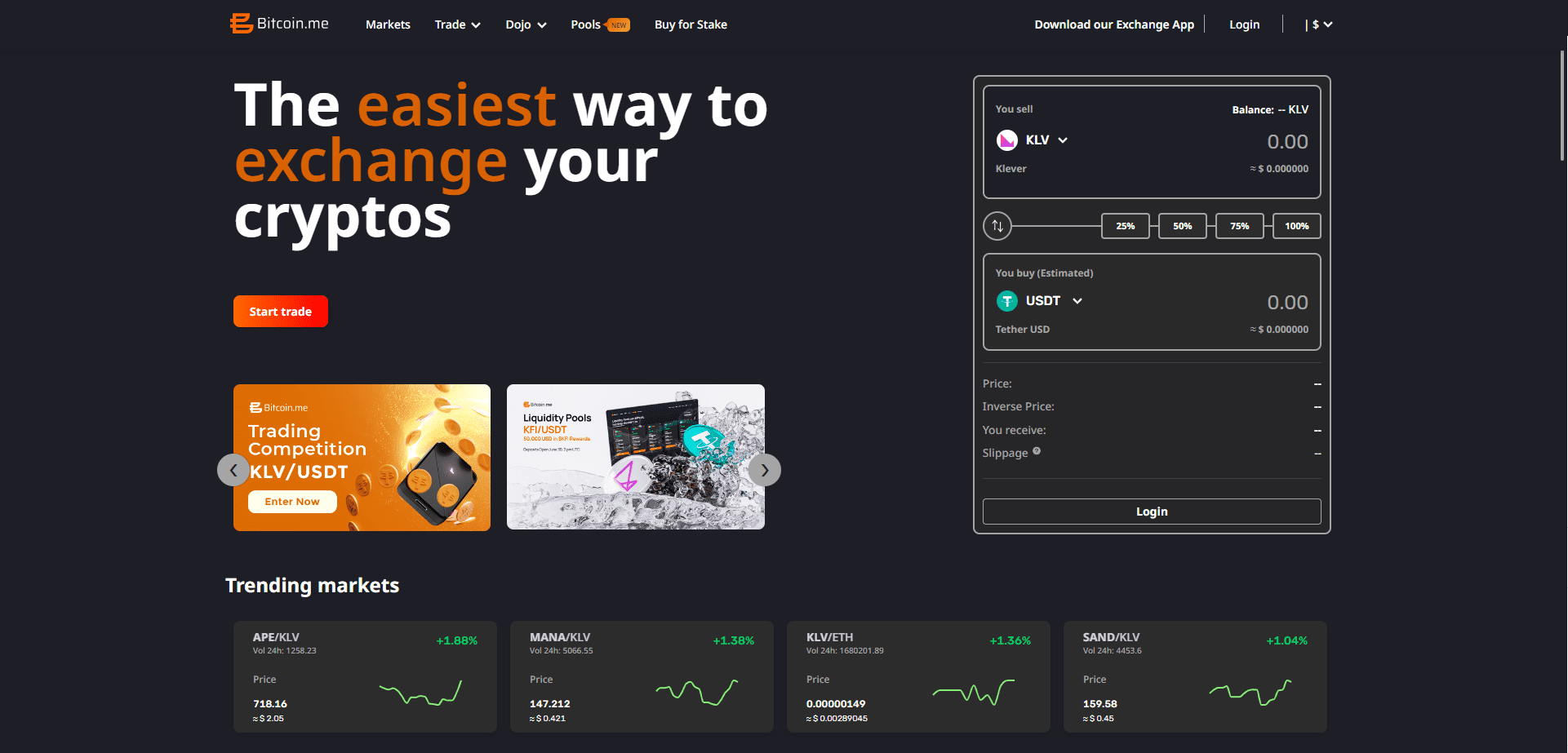 Bitcoin.me provides a range of products including spot trades, trading competitions, liquidity pools, and more. Furthermore, its compatibility across iOS, Android, and web platforms makes it accessible to a diverse range of users worldwide.
In terms of fees, Bitcoin.me offers competitive rates for both makers and takers, with discounted fees for those paying with KLV. This makes the platform appealing for traders seeking cost-efficient options.
The Need for Trusted Providers
Given the complex nature of cryptocurrencies and the volatility of the market, the need for trusted providers in the sector cannot be overstated. Bitcoin.me has garnered a trust score of 7/10, reflective of its growing reliability and user satisfaction.
Providers like Bitcoin.me also emphasize transparency, disclosing Exchange Reserves data available for viewing via the GeckoTerminal. This level of openness reassures users of the exchange's accountability and commitment to fair practices.
In the rapidly evolving crypto industry, centralized exchanges like Bitcoin.me are integral to facilitating secure and efficient transactions. As they continue to enhance security measures, streamline transactions, and foster transparency, centralized exchanges are set to play an even larger role in the crypto landscape of tomorrow.