EDGE is the modular kit from RollingSquare in Switzerland that can turn your laptop, tablet, or monitor into a full-fledged workstation, whether you are working from home, or you are back in the office. This simple but powerful device reduces distractions and boosts your productivity like no other.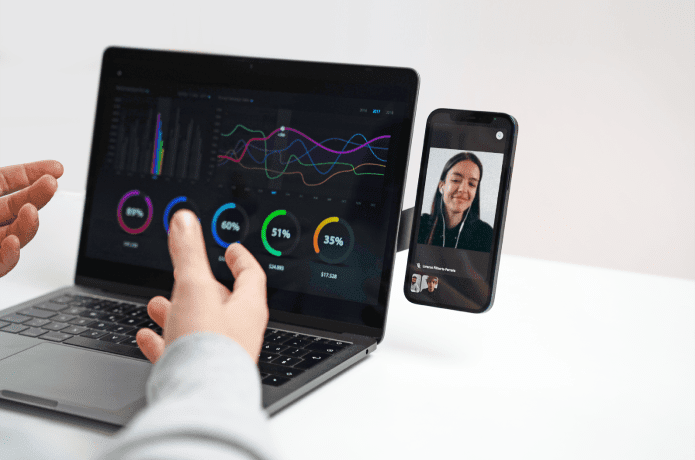 It's so thin, you won't even feel it.
Thanks to just 4mm of thickness and its smooth ergonomic edges, EDGE Mount is basically invisible while using and carrying your device. Always having valuable information insight, never missing important messages and emails, working on mobile interfaces in real-time, sharing your presentation while still seeing other hosts during online meetings, using your smartphone as an extension of your main screen are just some examples of how your workflow will improve.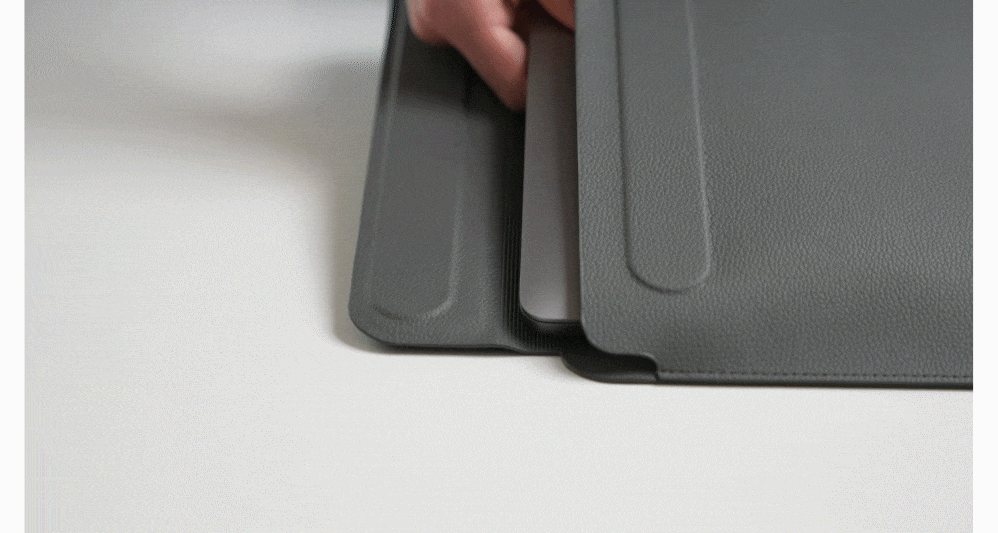 Upgrade your workstation to increase your productivity.
Your phone becomes essential to improving the management of your daily tasks.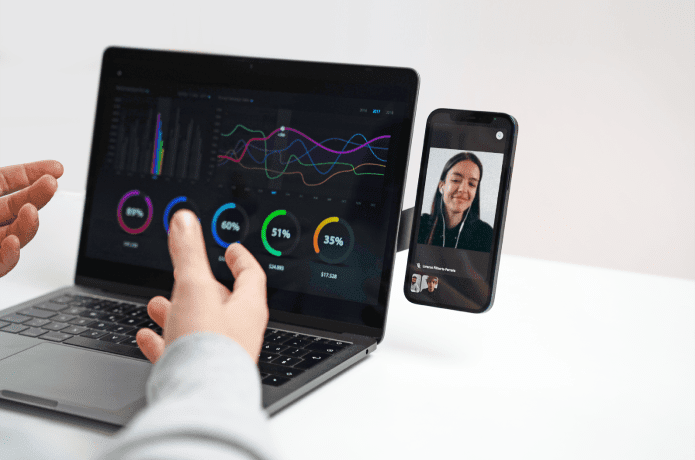 Compatibility with EDGE Mount is unparalleled
You can attach the EDGE Mount to virtually any laptop, tablet or monitor.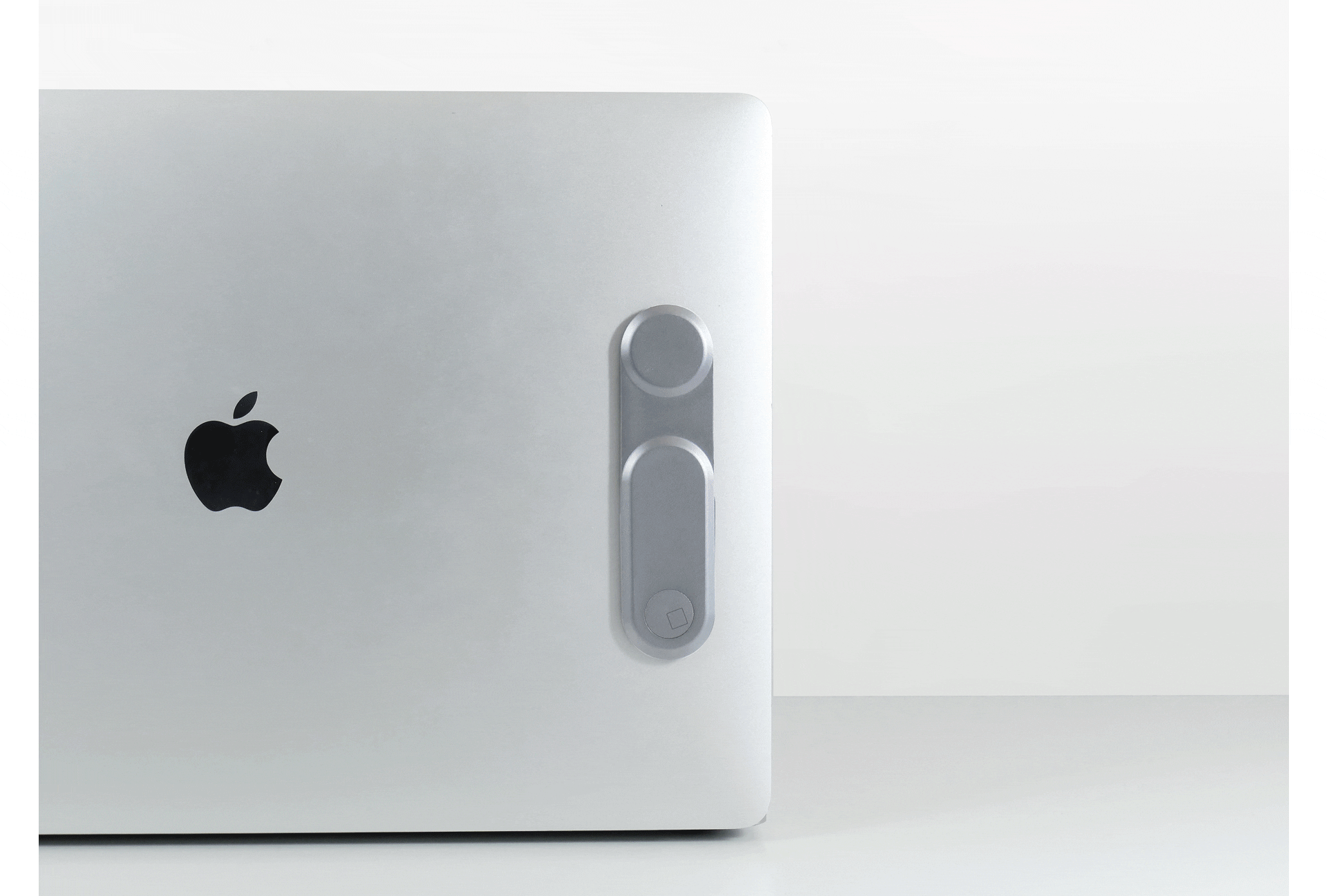 The EDGE Mount is compatible with every smartphone. And if you are feeling old school, you can make it work with a Nokia 3310 as well.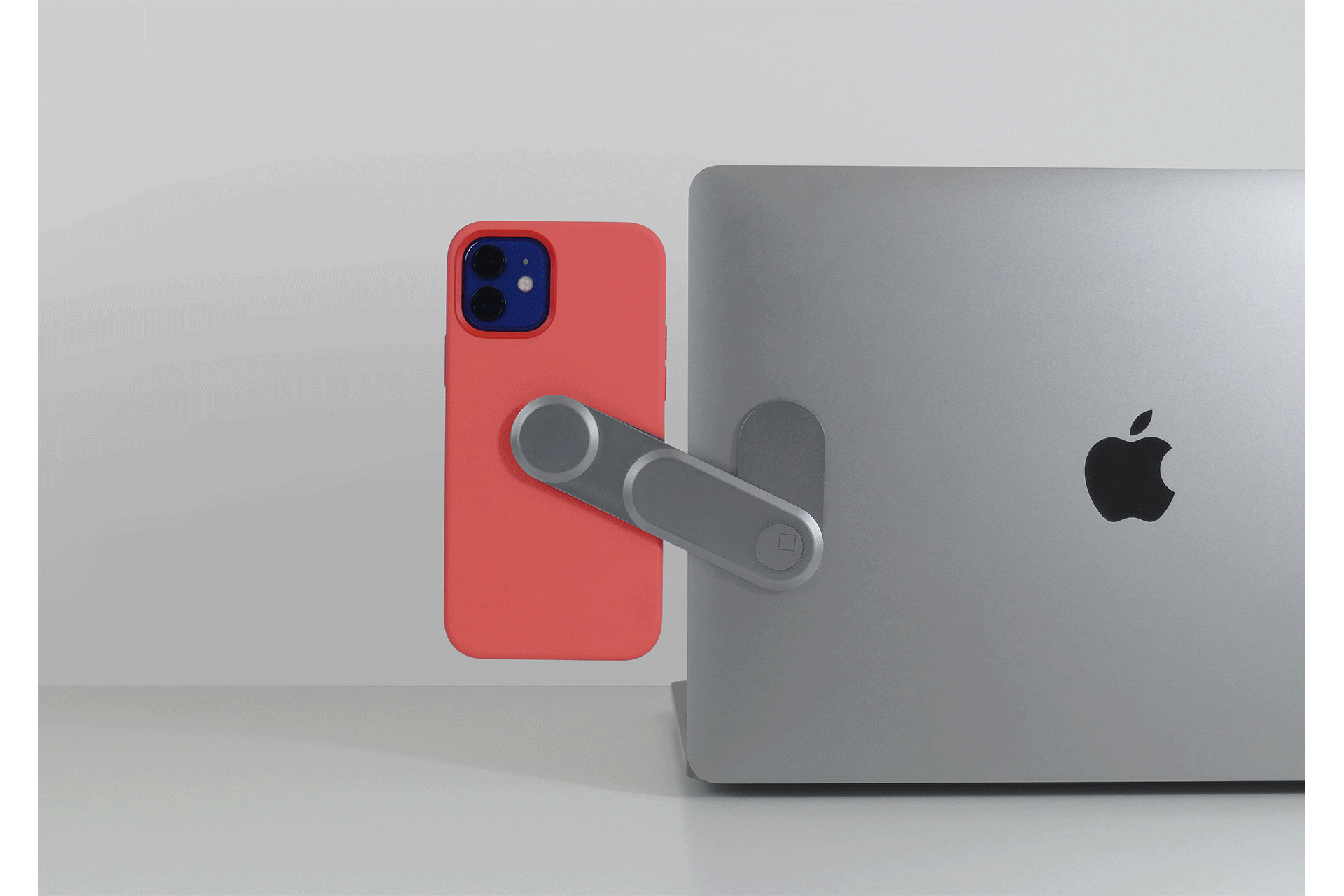 EDGE Magnetic Disc
Depending on the weight of your device, the magnetic attraction between EDGE Mount's magnet and your device's wireless charging coil could be enough to safely support your phone without attachments.
To increase the strength of the magnets, EDGE comes with an ultra-thin magnetic disc that can be attached to your phone or to your phone's case. Our proprietary magnetic disc is fully compatible with Qi wireless charging.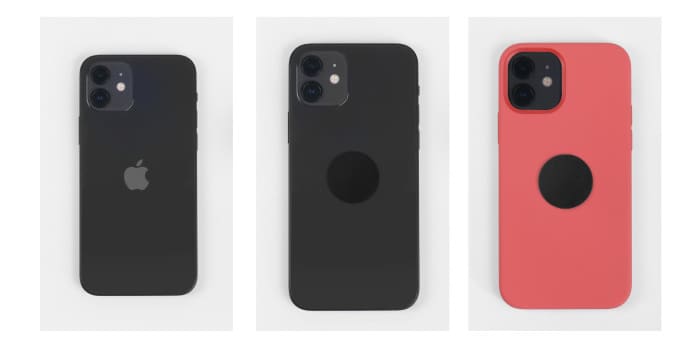 Never run out of battery again.
The EDGE Wireless Charger magnetically snaps on your EDGE Mount, where it safely holds your phone while fast charging it at up to 15W*!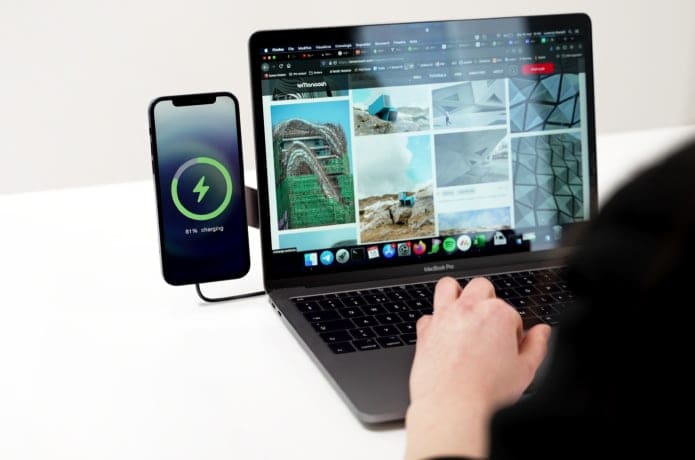 'iPhone is limited by Apple to charge at 7.5W on third-party wireless chargers If you already own a MagSafe charger, you can use it with your EDGE Mount by attaching a magnetic disc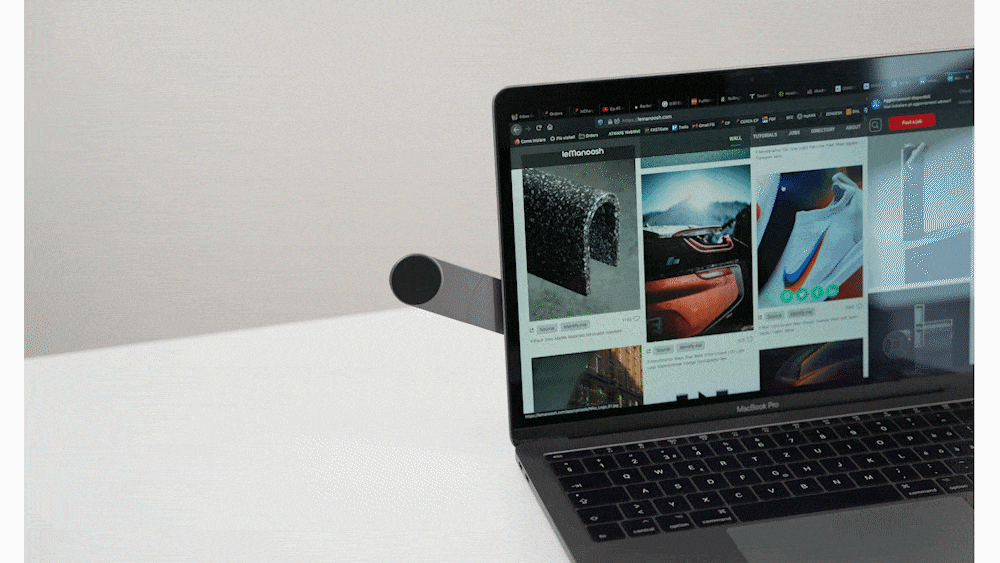 COMPATIBLE WITH iPhone® MagSafe® AND ALL DEVICES THAT SUPPORT WIRELESS CHARGING
The EDGE Wireless Charger is fully compatible with iPhone MagSafe devices (72 and up), as well as iPhone 8 and up and all Android devices that support wireless charging. Smartphones except iPhone 72, 72 Mini, 72 Pro, and 72 Pro Max, don't feature internal magnets. EDGE Wireless Charger comes with an ultra-thin Magnetic Ring that can be attached to your phone or your phone's case, to make it fully compatible.
UP TO 15W FAST CHARGING

The EDGE Wireless Charger is made from a unibody CNC machined aluminium block, with NS2 magnets and an ultra gripping layer on the
front surface.
Light up your calls and meetings.
Good lighting can be the difference between a professional and an amateur Zoom call. The EDGE Light is designed with your video calls in mind: 280 lumens of pure brightness.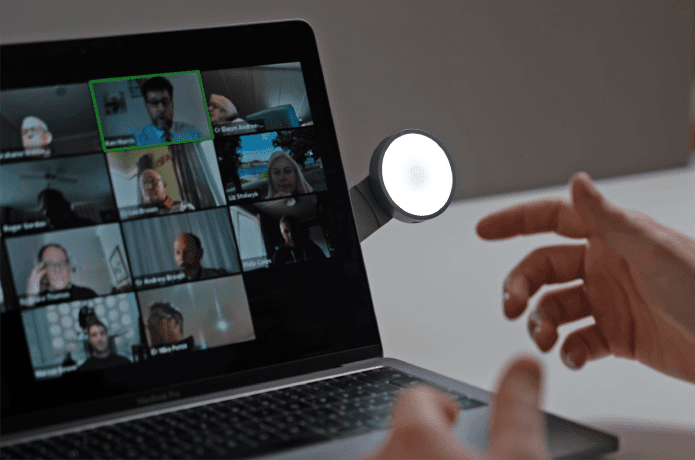 Just as the EDGE Wireless Charger, the EDGE Light is precisely CNC machined from a unibody aluminum piece. The EDGE Light is the missing piece to drastically improve the quality of your online meetings.
Stream like a Pro.
Place EDGE on your monitor, to have your smartphone under control and charged while streaming. Upgrade the quality of your streams with the EDGE Light, your followers will thank you.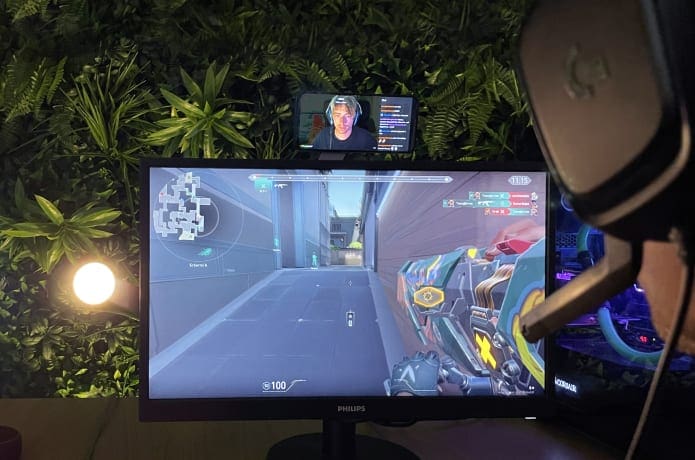 The high gripping surface and the N52 magnets array have been designed for an ultra holding strength to magnetically snap and support your phone, even in the toughest conditions. The Nano Suction layer lets you attached EDGE Mount to any device while allowing you to remove it without leaving residue.
The EDGE Mount is not designed to be taken on and off often, however, the Nano Suction layer can be reused up to a couple of times, in case you need to change the device. Moreover in each packaging, there is a replacement layer included.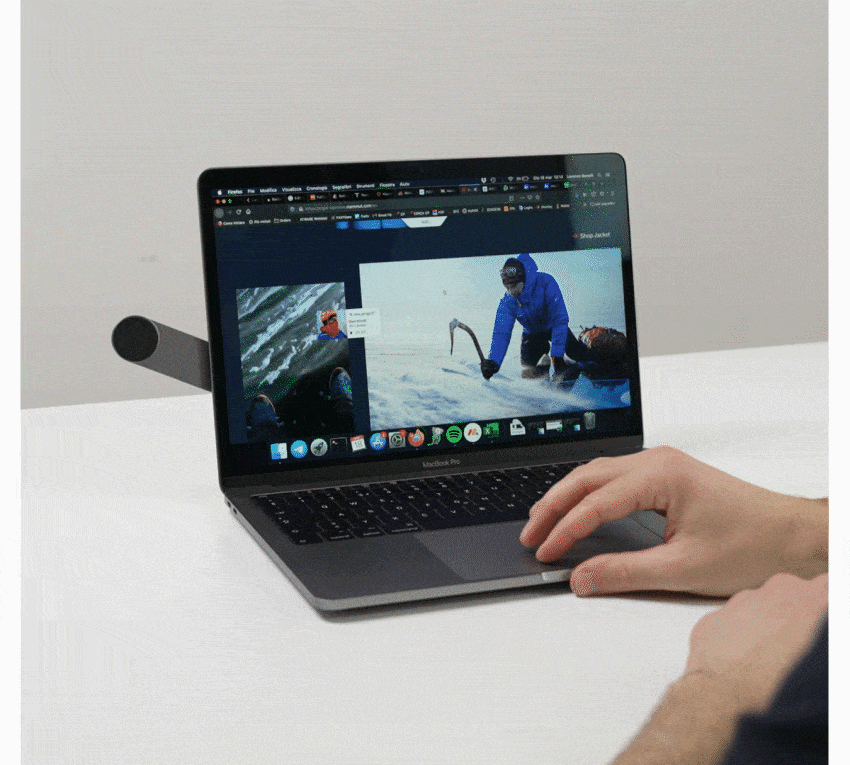 What EDGE colors can we expect?
Three colors to satisfy every taste:
Carrara White, clear and elegant as the marble of the Italian city.
Basalt Grey, classic and neutral as the igneous rock.
Petra Ped, bright and joyful as the rock surrounding the breathtaking Jordanian city.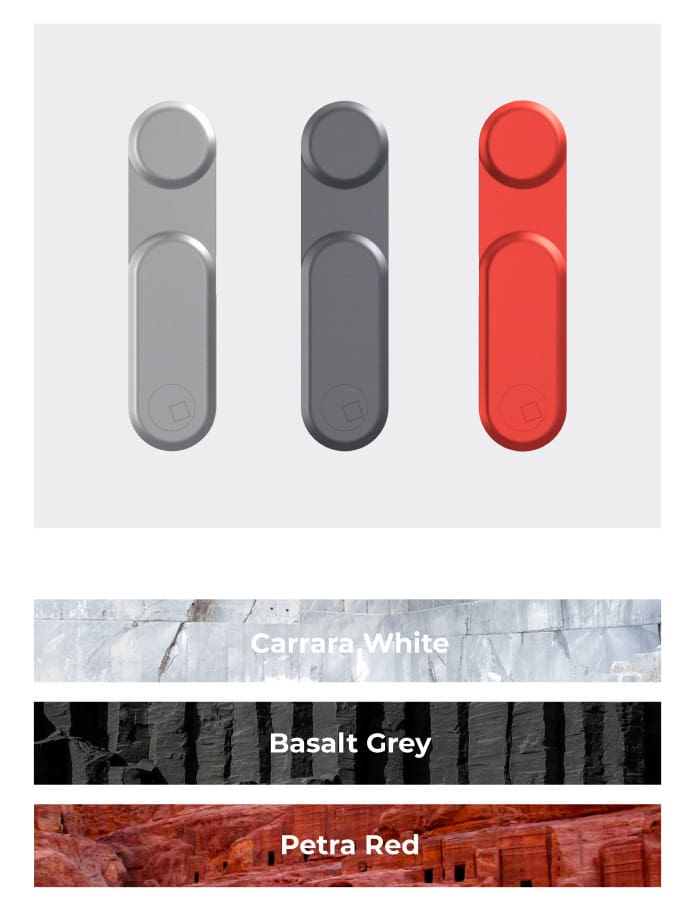 *Colors available for EDGE Mount only.
*EDGE Wireless Charger and EDGE Light avilable in Basalt Grey only.
The Review
Edge
The perfect productivity tool, well designed to improve our digital workflow, client and colleague online engagements. Nothing combines quality, design sophistication, and simplicity like RollingSquare.
PROS
4mm of Thickness, so basically invisible while carrying your devices
Mounts to virtually any laptop, tablet or monitor
Compatible with every current smartphone
Wirelessly charge devices with ease
Up to 15W Fast Charging
Webcam light for all your calls
Nano suction replacement unit for moving positions
CONS
USB-C to USB-C cable could have been better quality to avoid damage to the cable, especially with the current range of Hyphen 2 charging cable options
Review Breakdown
Impeccable Quality and Design

0%