Carbon Engineering released their Mid-Project Update in early June for their Sky's the Limit project. They believe they can create a future in which children and neighbours inherit the same planet we've all enjoyed; where everyone delivers prosperity and well-being while avoiding any environmental impacts. Carbon Engineering's contribution to this future is called Direct Air Capture technology which is more than 10 years in the making and can capture carbon dioxide directly from the atmosphere.
It has long been technically possible to produce synthetic liquid fuels from hydrogen and CO2 using mature technologies like Fischer-Tropsch. This fuels pathway, however, has been too cost-intensive to be economically feasible – until now. The combination of Carbon Engineering's industrial-scale capture of atmospheric CO2, the new regulatory incentives for low carbon fuels, and recent reductions in the cost of electrolysis and carbon-neutral electricity, has made carbon-neutral synthetic fuels economically viable today.
Using an approach called the AIR TO FUELSTM solution, Carbon Engineering can produce synthetic liquid fuels that are drop-in compatible with today's infrastructure and engines and are almost completely carbon neutral. This approach is highly scalable, is cost-competitive with biofuels, and delivers fuels that have an energy density 30 times greater than today's best batteries.
How AIR TO FUELSTM Technology Works
CE's AIR TO FUELSTM technology has three major steps: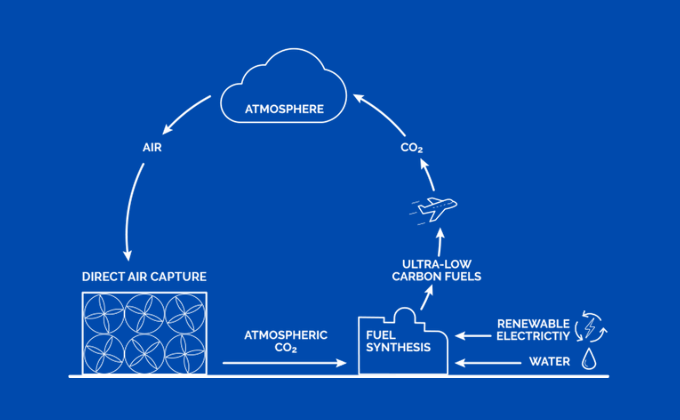 Step 1: Carbon Engineering's Direct Air Capture process captures and concentrates CO2 from atmospheric air.
Step 2: Clean electricity (such as solar PV) is used to electrolyze water, splitting it into hydrogen and oxygen.
Step 3: The CO2 and hydrogen are thermo-catalytically reacted to produce syngas, and reacted again to produce hydrocarbons. These hydrocarbons can then be refined into drop-in compatible gasoline, diesel, and jet fuel.